Incubator mini 7 eggs hatching chicken eggs machine home used
Product Detail
Product Tags
【Visible Design】High transparent plastic cover is easy to observe the entire process of hatching
【Uniform Heat】Circulating heating, provides evenly temperature to every corner
【Automatic temperature】Accurate automatic temperature control with simple operation
【Manually Turn Eggs】Increase kids' sense of participation and experience process of nature life
【Turbo fan】Low noise, accelerate the uniform heat dissipation in the incubator
7 eggs incubator is able to hatch chick, duck, quail,bird,pigeon eggs etc by kids or family.It is very suitable for family or school and laboratory use.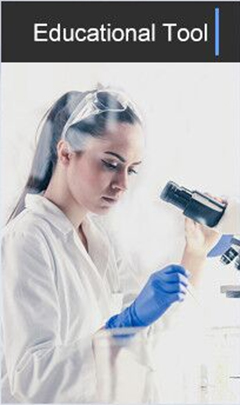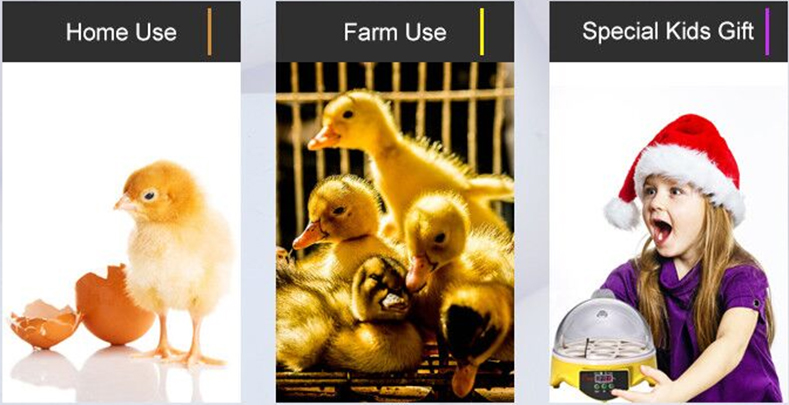 | | |
| --- | --- |
| Brand | HHD |
| Origin | China |
| Model | 7 Eggs Incubator |
| Color | Yellow |
| Material | ABS&PP |
| Voltage | 220V/110V |
| Power | 20W |
| N.W. | 0.429KGS |
| G.W. | 0.606KGS |
| Packing Size | 18.5*19*17(CM) |
| Package | 1pc/box,9pcs/ctn |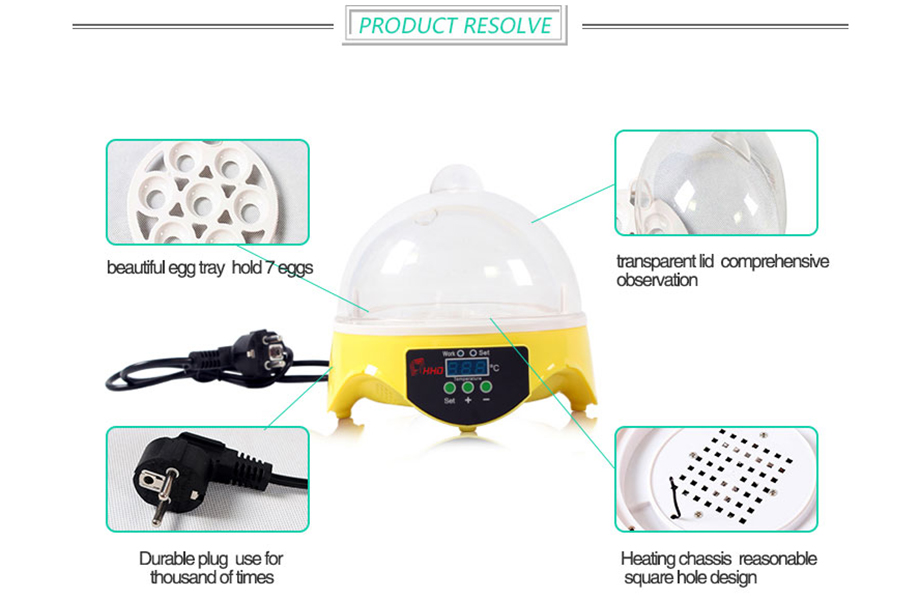 High transparency cover is a new trend,when u see the baby pets is born in front of your eyes,it is very special and happy experience.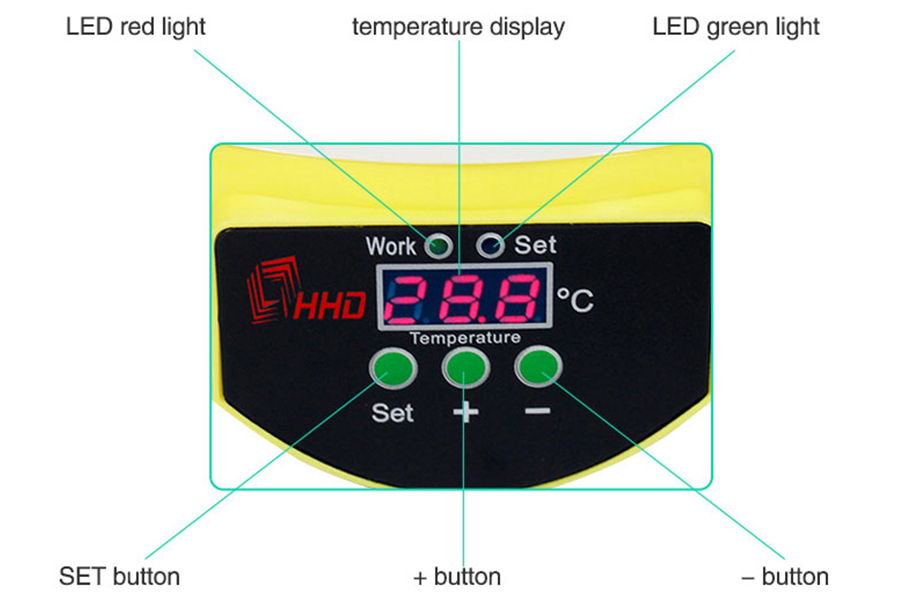 Incubator control panel is with easy design.Even though you are new for hatching,it is easy to operate without any pressure.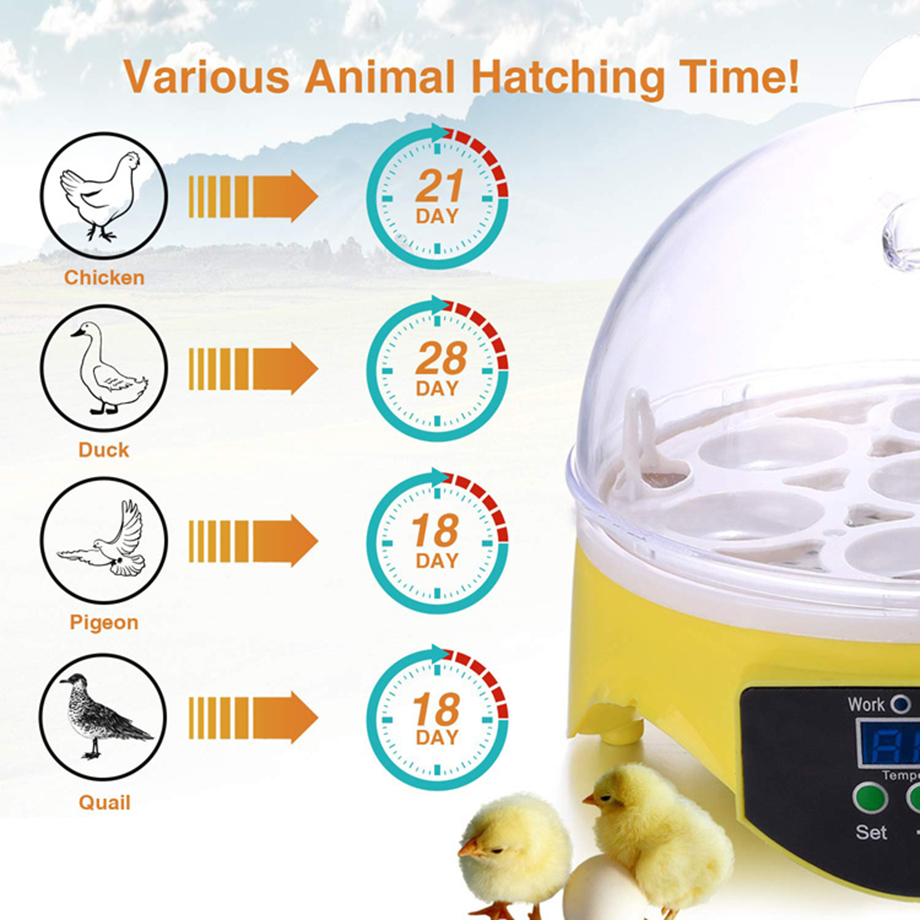 Different kinds of fertilized eggs enjoy different hatching period.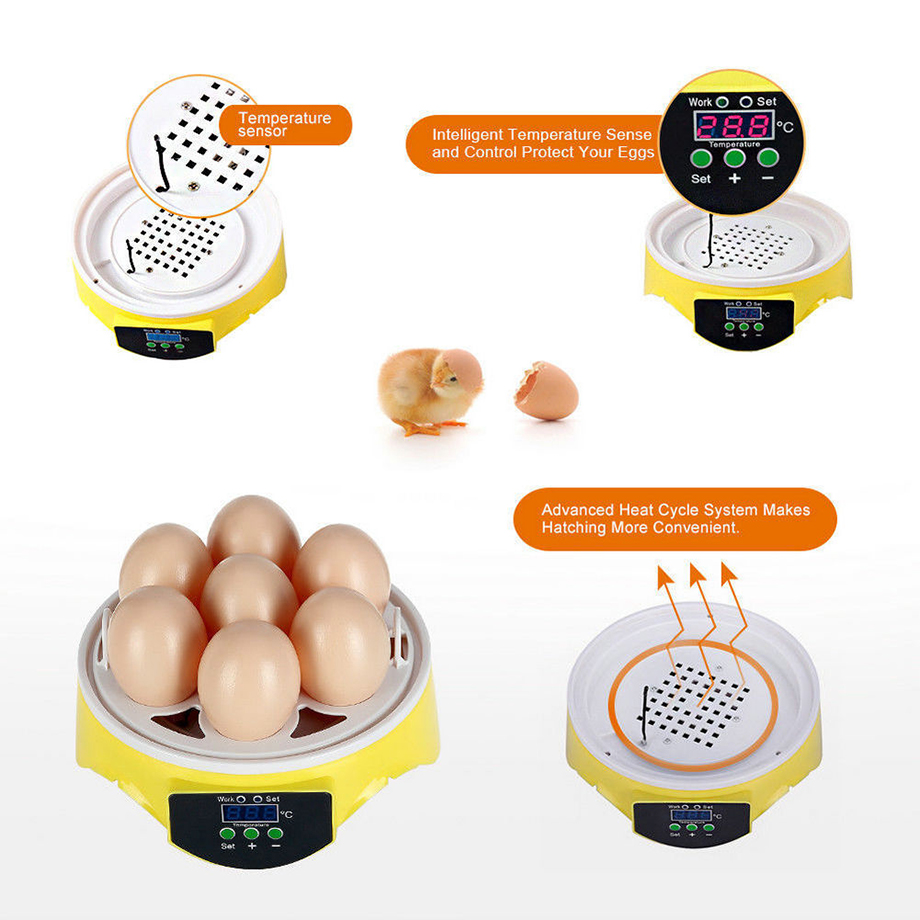 Intelligent temperature sensor- test inside temperature and display on control panel for your observation.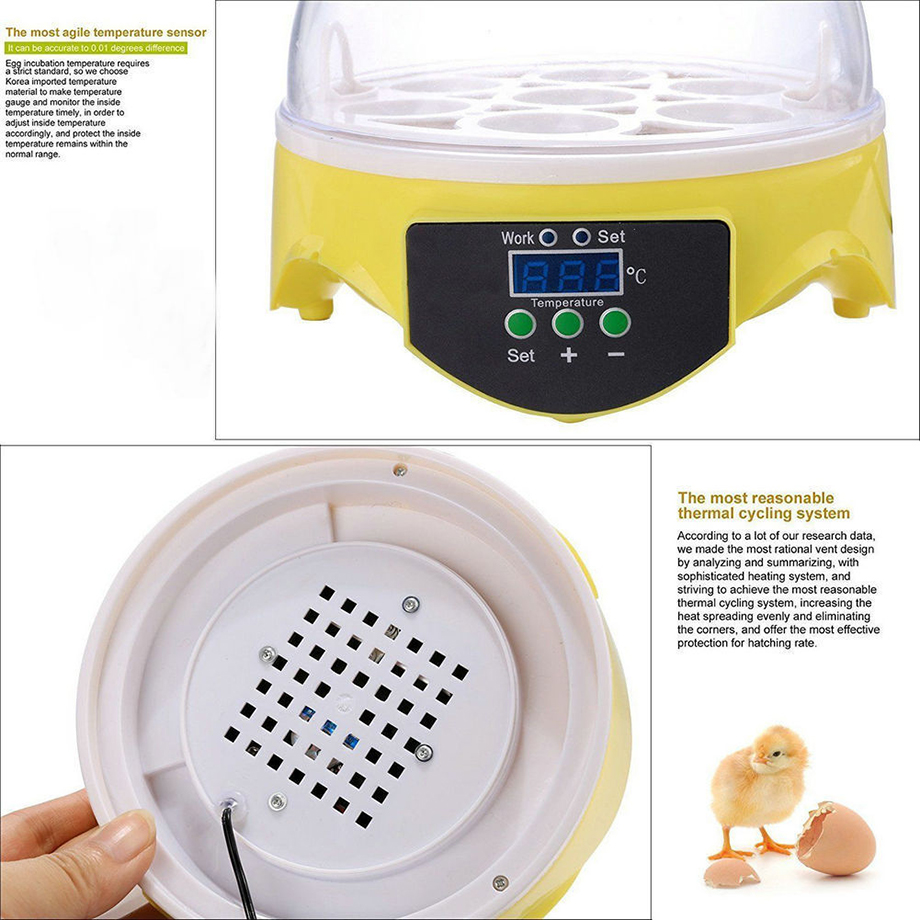 Thermal Cycle system makes hatching more convenient - 20-50 degree range support to hatch different egg as desired.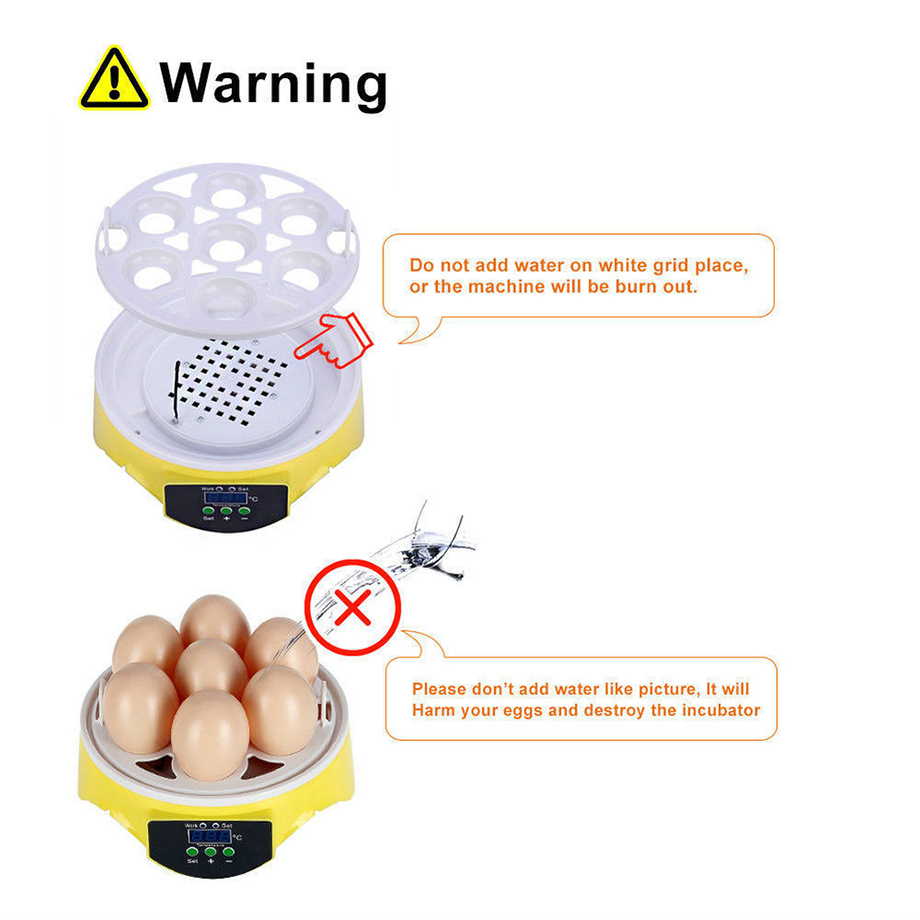 Please add water on the water tank directly to ensure proper humidity.
How to choose fertilized eggs? & Increase Hatching Rate
How to choose fertilized eggs?
1.Choose fresh fertilized eggs laying within 4-7 days generally, medium or small sized eggs for hatching will be better.
2.Keeping fertilized eggs at 10-15℃ is recommended.
3.Washing or putting it into fridge will damage the powdery substance protection on cover, which is strictly prohibited.
4.Ensure fertilized eggs surface are clean without deformity, cracks or any spots.
5.Incorrect disinfection mode will reduce hatching rate. Please ensure eggs are clean and without spots if without good disinfection condition.
Setter period (1-18 days)
1.The proper method of placing egg for hatching, arrange them with the wider end upwards and the narrower end downwards. As shown in the figure below.


2.Do not test eggs in first 4 days to avoid affecting internal development
3.Check if blood inside eggs on 5th days and pick unqualified eggs out
4.Keep continuous attention on temperature/humidity/egg turning during hatching
5.Please wet sponge twice per day (Please adjust subject to local environment)
6.Avoid direct sunlight during hatching process
7.Do not open the cover frequently when the incubator is working
Hatcher period (19-21 days)
1.Reduce temperature and increase humidity
2.When a chick get stuck in the shell, spray the shell with warm water and help by gently pulling off the egg shell.
3.Help baby animal to come out with clean hand gently if necessary
4.Any chick eggs not hatched after 21 days, please wait for extra 2-3 days.
Low Temperature
1.Check if heater in correct position or not
2.Check if environmental temperature is above 20℃
3.Place machine into foam/warming room or surrounded with thick clothes
4.Check if temperature sensor works well or not
5.Replace new PCB
HighTemperature
1.Check if factory setting temperature is reasonable or not
2.Check if fan works or not
3.Check if temperature sensor workable
4.Replace new PCB
---
---
Write your message here and send it to us