4-40 Eggs Incubators for Hatching Eggs with Automatic Egg Turner, Egg Candler, Humidity Display Control for Hatching Chicken, Quail, Ducks, Goose, Pigeon Eggs
Product Detail
Product Tags
【Auto external water adding】Support to add water automatically from outside
【Transparent Lid】Provides proper heat insulation, protects eggs, and allows for
convenient at-a-glance monitoring
【LED candler】Illuminates egg for viability testing and developmental observation
【Auto egg turning】Auto egg turning every 2 hours,support to intervals according to your species' need
【Universal egg tray】Suitable for chick,pigeon,duck,quail,birds eggs etc.and adjustable depending on species
【Auto temperature control&display】It controls the temperature preciously and display on control panel clearly.
【Auto humidity control】It displays the present humidity clearly on control panel
It is Great for Teaching Kids the Wonders of Life.Suitable for family,school,lab etc.Join to teach your kids the basics of science and allow them to have fun by disconnecting from their cell phone now.

| | |
| --- | --- |
| Brand | HHD |
| Origin | China |
| Model | Automatic 20 Eggs Incubator |
| Color | Grey and White |
| Material | New PET Material |
| Voltage | 220V/110V |
| Power | ≤50W |
| N.W. | 1.75KGS |
| G.W. | 2.35KGS |
| Product Size | 38.7*25.2*11.6CM |
| Packing Size | 44*30.5*16.5CM |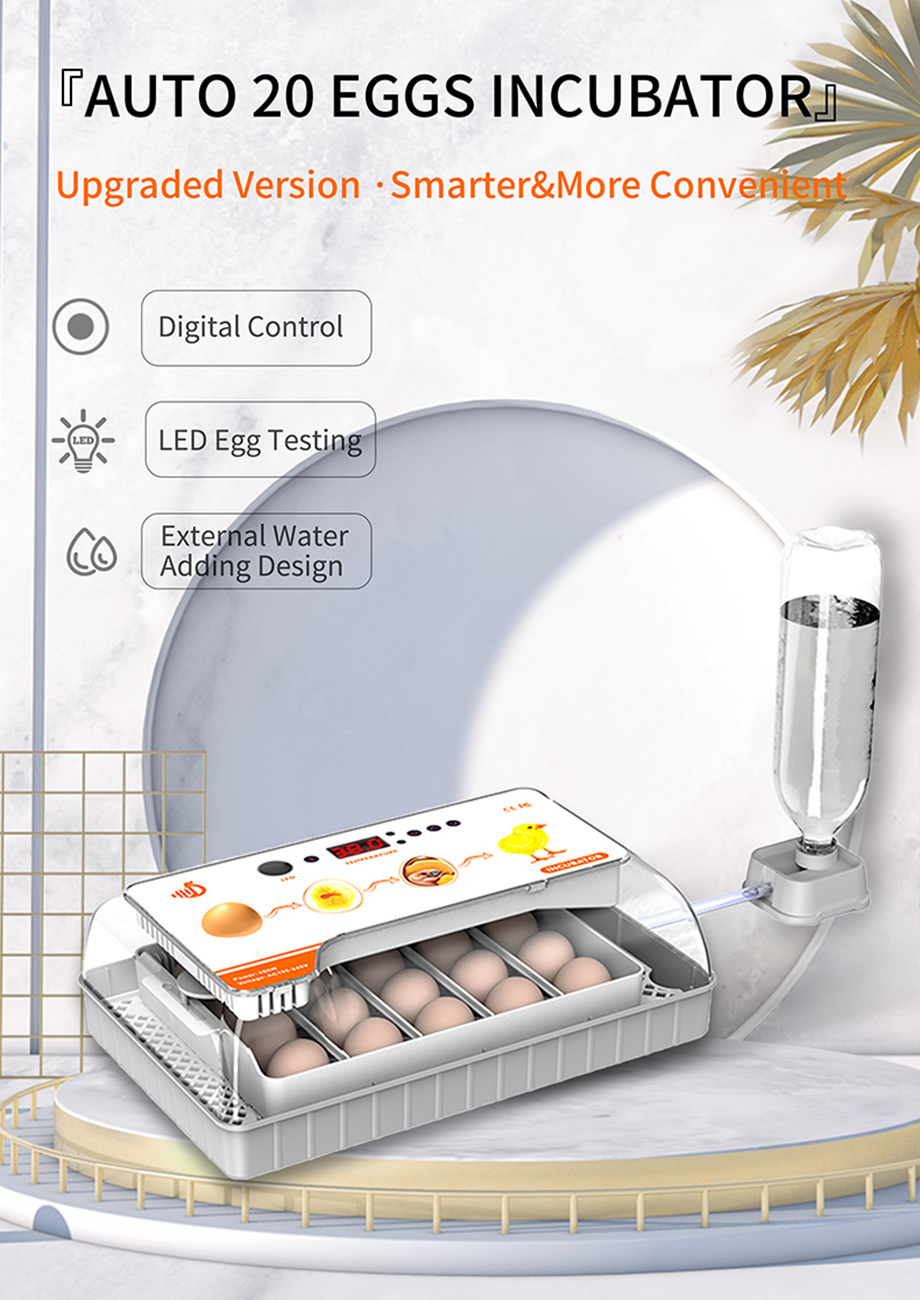 Upgraded 20 eggs incubator with auto water adding function,more pratical,smarter and convenient.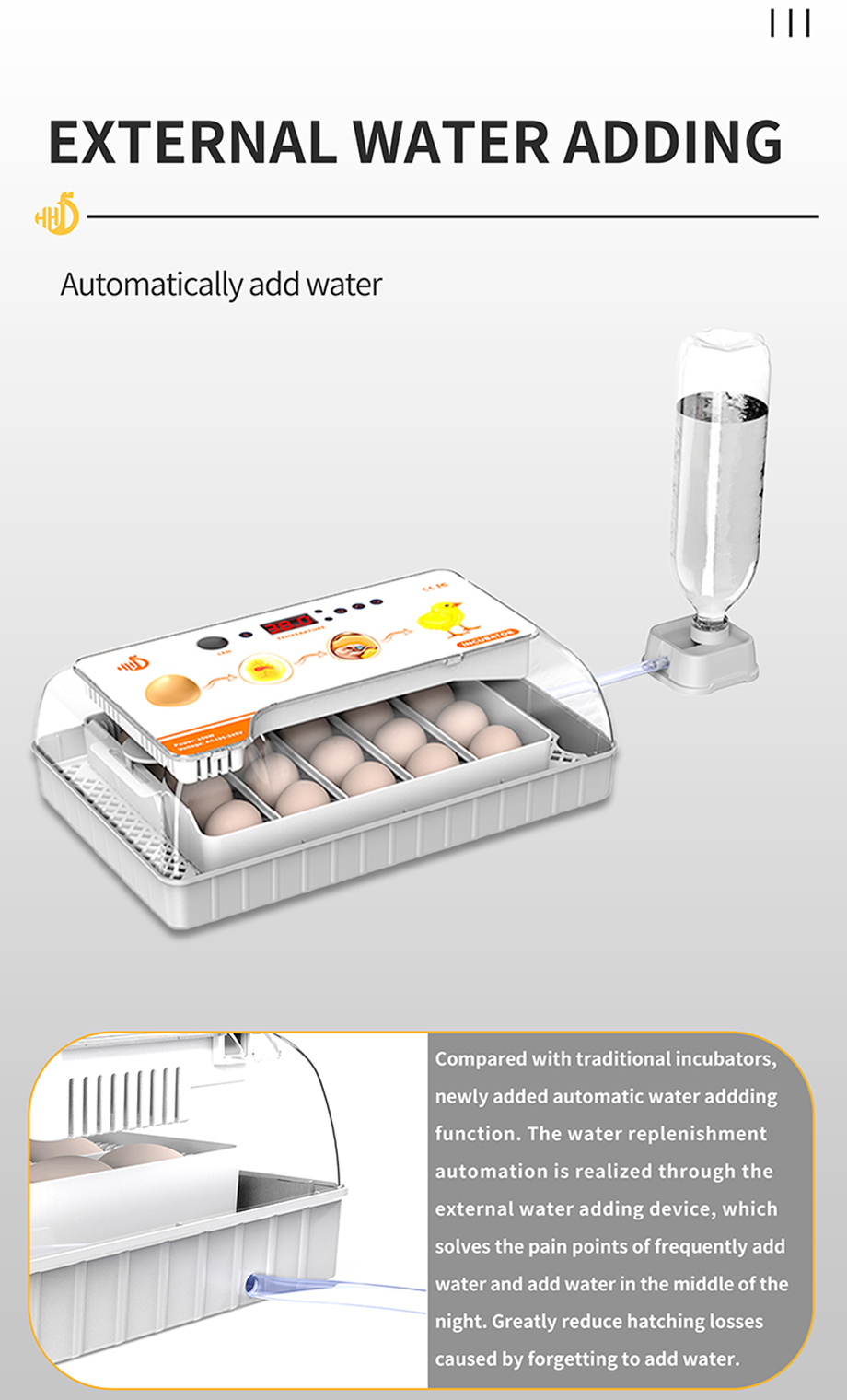 Auto water adding function,solves the pain points of frequently add water especially in the mid-night.It greatly reduce the losses caused by forgetting to add water.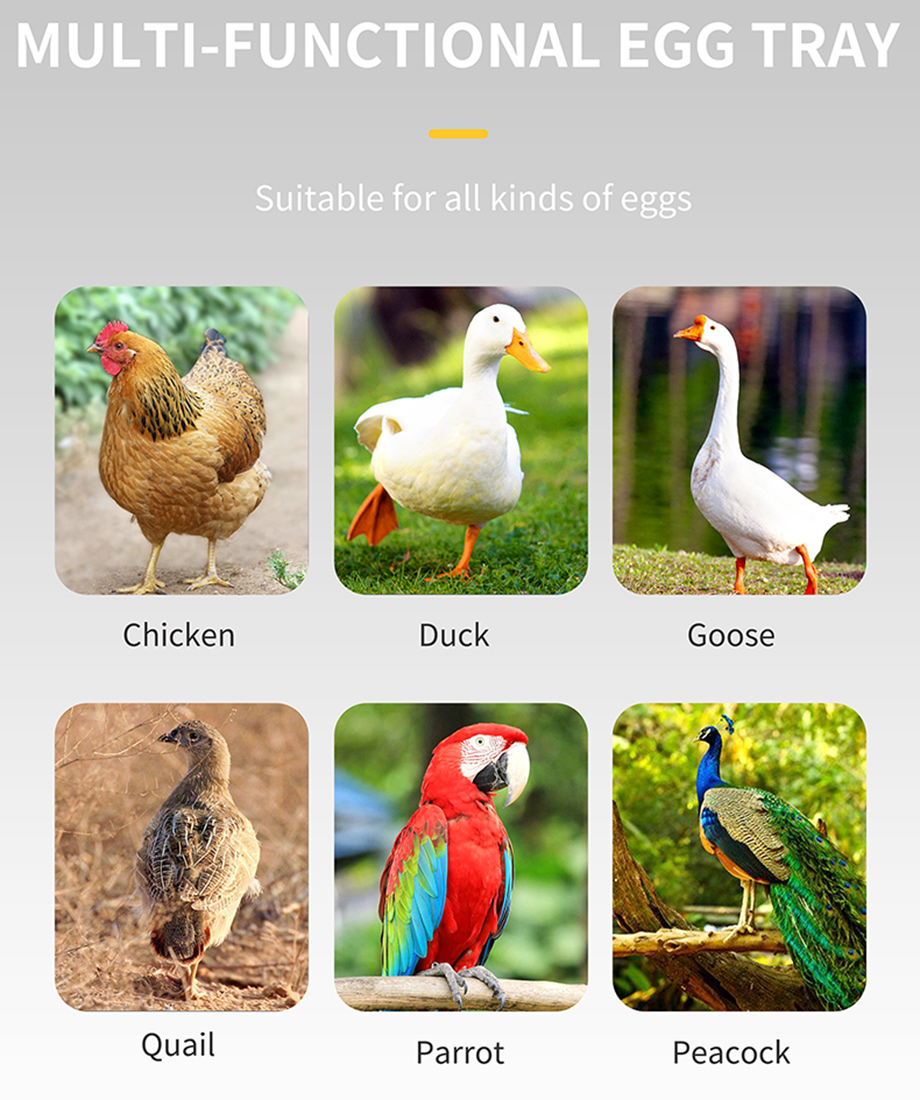 Universal egg tray equipped,suitable for chick,pigeon,duck,quail,birds eggs etc.and adjustable depending on species.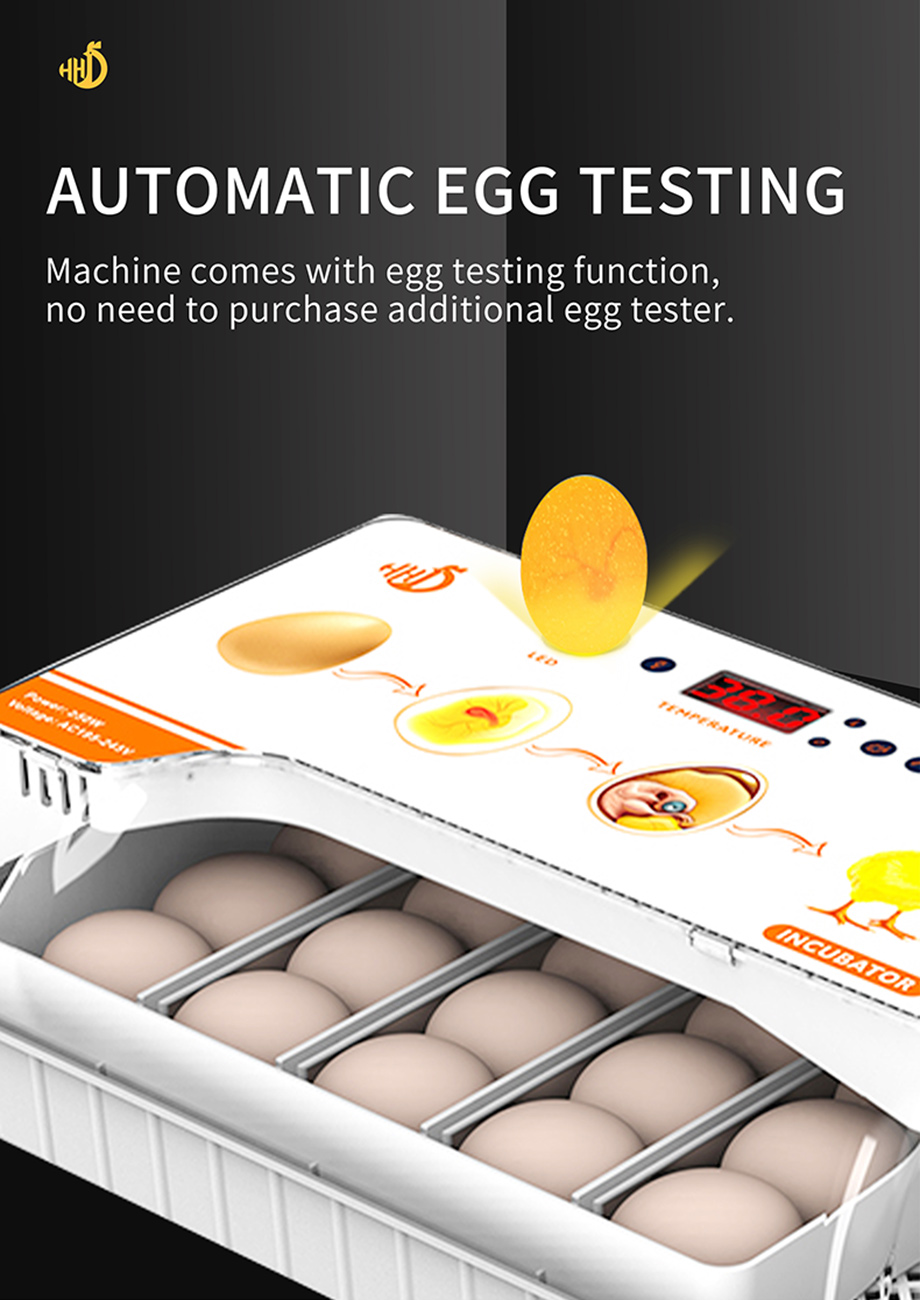 One-button egg tester function,checking if eggs are fertilized or not easily,and easily observe whole of the hatching process.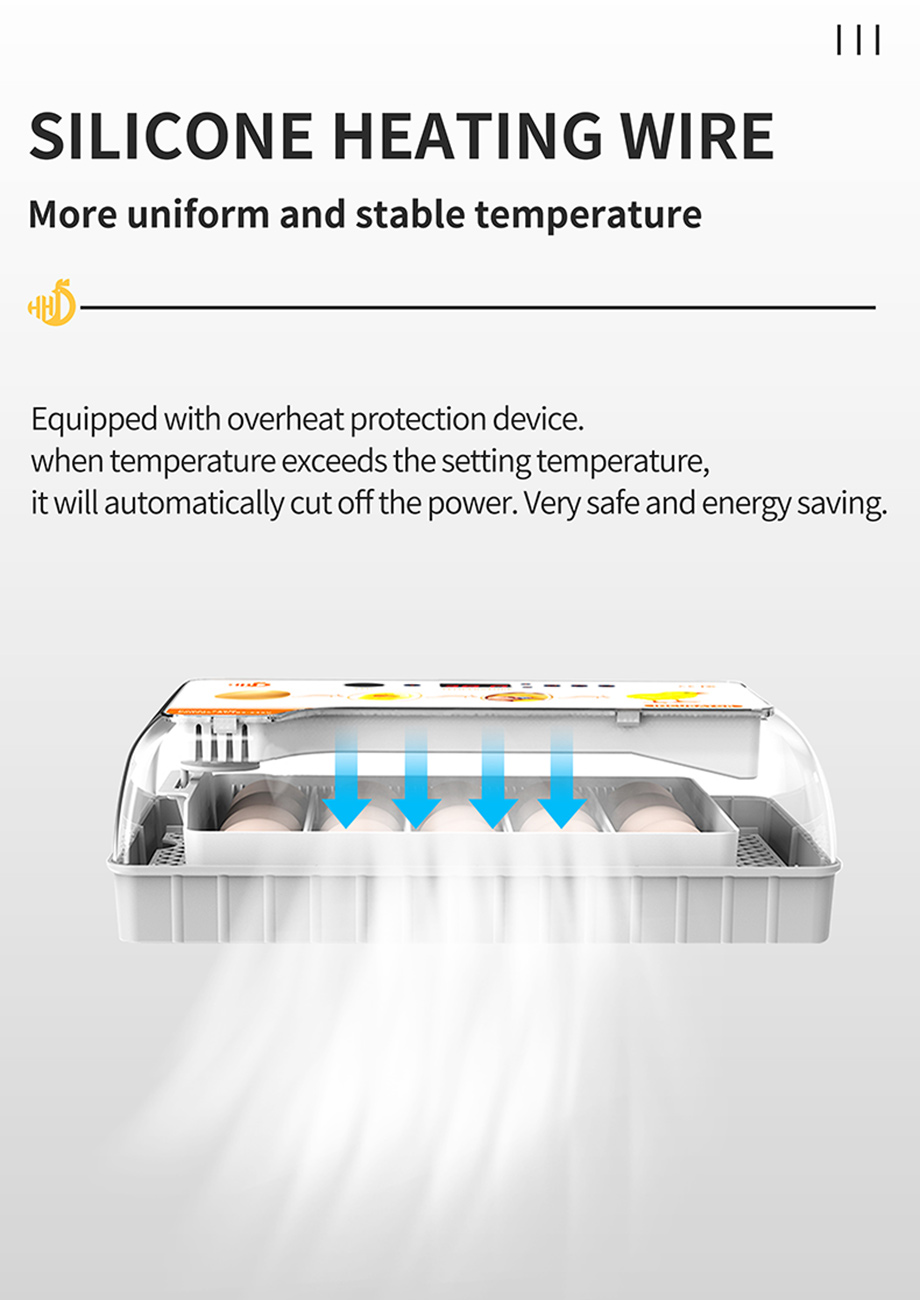 Silicon heating wire achieved more uniform and stable temperature.And overheating protection device equipped to cut off the power automatically once temperature exceeds the setting one.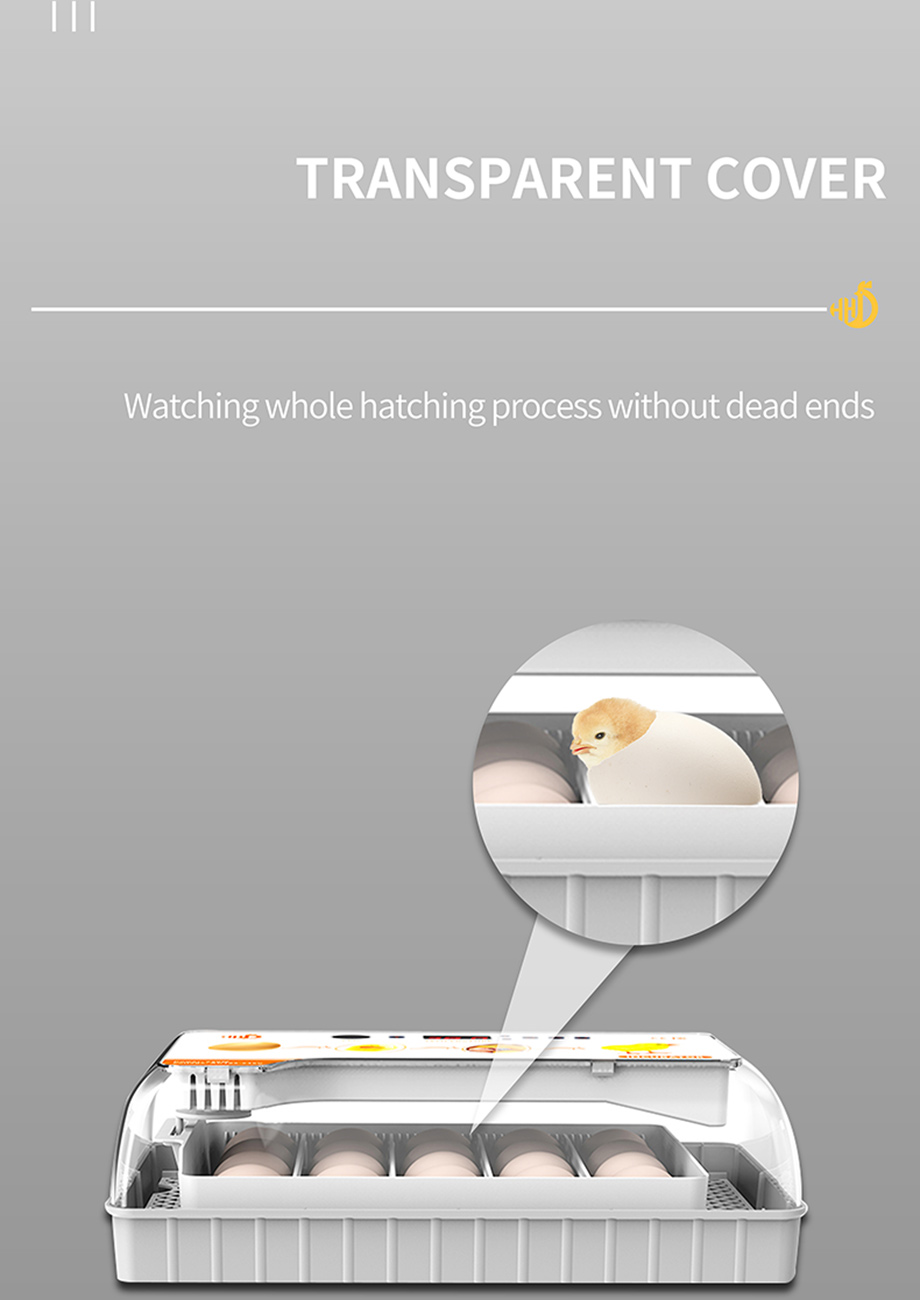 High transparency cover allows to observe the whole hatching process from 360°freely.
Enjoy every hatching moment.
Egg Selection & Quality Control
How to choose fertilized eggs?
1.Choose fresh fertilized eggs laying within 4-7 days generally, medium or small sized eggs for hatching will be better.
2.Keeping fertilized eggs at 10-15℃ is recommended.
3.Washing or putting it into fridge will damage the powdery substance protection on cover, which is strictly prohibited.
4.Ensure fertilized eggs surface are clean without deformity, cracks or any spots.
5.Incorrect disinfection mode will reduce hatching rate. Please ensure eggs are clean and without spots if without good disinfection condition.
All HHD incubators have passed CE/FCC/ROHs certificates. The CE certificate is mainly applicable to European countries, and the FCC is mainly applicable to American,ROHS for Germany Italy France etc market.HHD also certificate by SGS. That means we are golden supplier on Alibaba.
When your incubator order ready, all incubators here are approved quality testing and passed everything packages inspection again and again.
No matter you are old or new customer,and no matter you purchase for home use or sale,and no matter you purchase one pcs only or 100 and 1000pcs,We will control the quality strictly of each machine.We promised that each machine is with same Material/inspection process.Sample quality of sample is same as bulk goods,and we will do bellow inspection as bellowing.
1.Raw material control-all the material are supplied from fixed and qualified suppliers
2. Online inspection during production
3.2 hours aging testing include all the function
4. Batch inspection after package
5. Third party inspection, video inspection are accepted
So if you want to purchase incubators,or want to do incubator business,please consider we HHD.
---
Previous:
Egg Incubator 9-35 Digital Eggs Incubators for Hatching Eggs with Fully Automatic Turner, Humidity Control LED Candler, Mini Egg Incubator Breeder for Chicken, Ducks, Birds
Next:
24 Egg Incubators for Hatching Eggs, LED Display Egg Incubator with Automatic Egg Turning and Humidity Control Temperature, Egg Hatching Incubator Breeder for Poultry Chicken Quail Pigeon Birds
---
Write your message here and send it to us
Products categories