Artificial Incubator Wonegg Chinese Red 2000 Eggs for Farm Use
Product Detail
Product Tags
1.【One button egg cooling function】Keep 10 minutes per time when egg cooling function started to enhance hatching rate
2.【Innovative big LCD screen】The incubator is equipped with an high-end LCD screen,which is capable of intuitive display temperature,humidity,hatching day,egg turning time,digital temperature control, this all allows for efficient monitoring and close care for easy operation.
3.【Double layers PE raw material】Durable and non-deforming easily during long distance transportation
4.【Drawable roller egg tray】It is made for all sorts of chicks, ducks, quails, gooses, birds, pigeon, etc. It can accommodate 2000 normal size chicken eggs when hatching. If you are using small size, it will accommodate more. Easy to use and clean, save your time.
5.【Automatic Turning Eggs】The auto turners automatically turn the eggs around every 2 hours to improve hatching rate. The auto rotate egg turner saves the times and hassle of constantly having to open the incubator avoid releasing the precious humidity.Also auto turn feature allows for less human touching and decreases the chance of spreading germs or contaminates.
6.【Visible double layers observation window】It supports convenient observation during hatching process without open the incubator avoid releasing temperature and humidity.
7.【Perfect humidity control system】It equipped with floating ball in water tank.Never worry about dry burning or melting any more.
8.【Copper fan】High quality fan with long lifetime,supports to distribute temperature&humidity evenly to every corner to ensure stable hatching rate
9. 【Silicon heating system】Realized stable accurate temperature control
Suitable for mini or medium farm hatching.

| | |
| --- | --- |
| Brand | WONEGG |
| Origin | China |
| Model | Chinese Red Automatic 2000 Eggs Incubator |
| Color | Grey,Red,Transparent |
| Material | NEW PE Material |
| Voltage | 220V/110V |
| Frequency | 50/60Hz |
| Power | ≤1200W |
| N.W. | 66KGS |
| G.W. | 69KGS |
| Product Size | 84*77.5*172 (CM) |
| Packing Size | 86.5*80*174(CM) |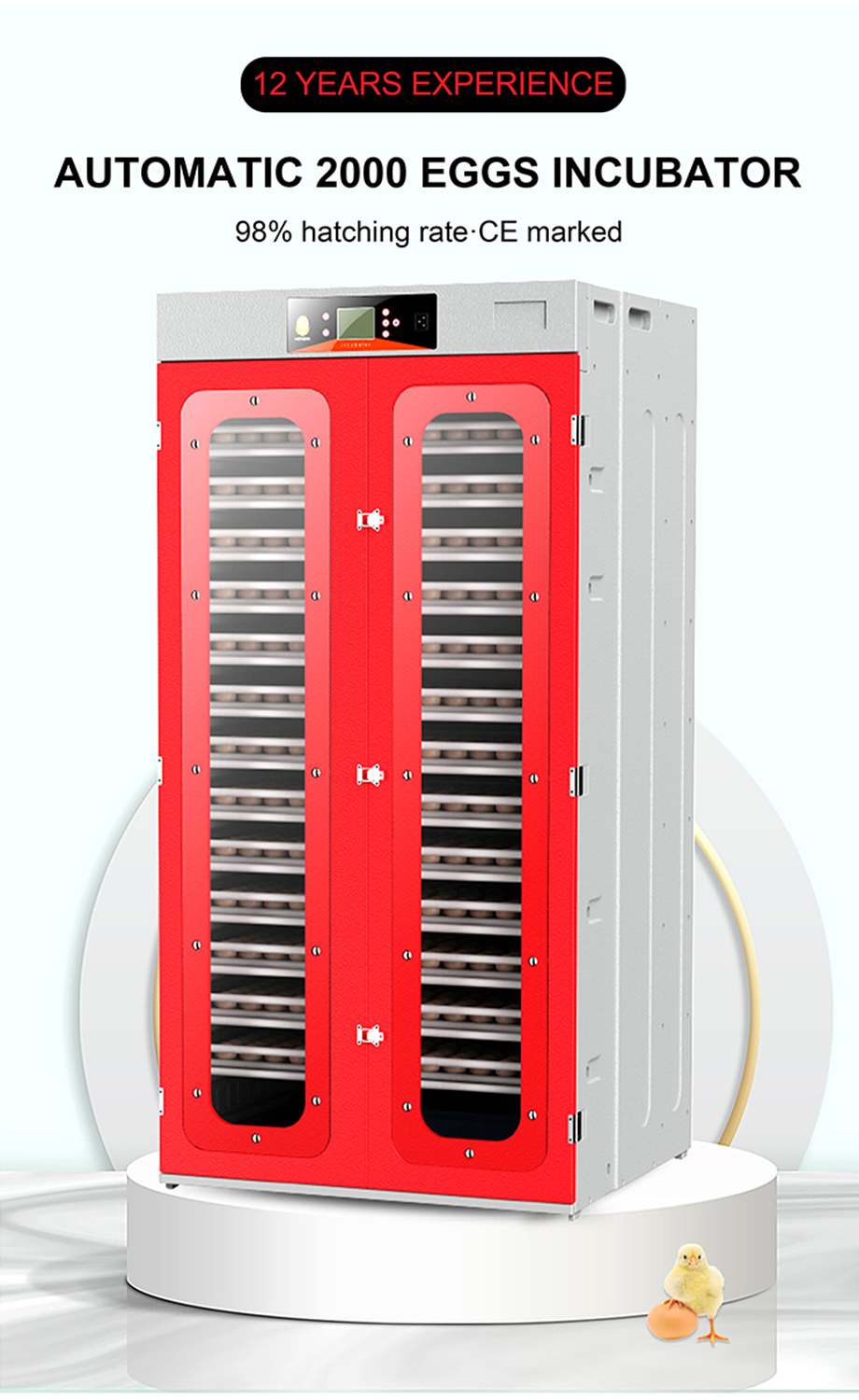 12 years experiences goes into every incubator product.Artifical Chinese red 2000 eggs incubator with CE approved,suitable for farm hatching.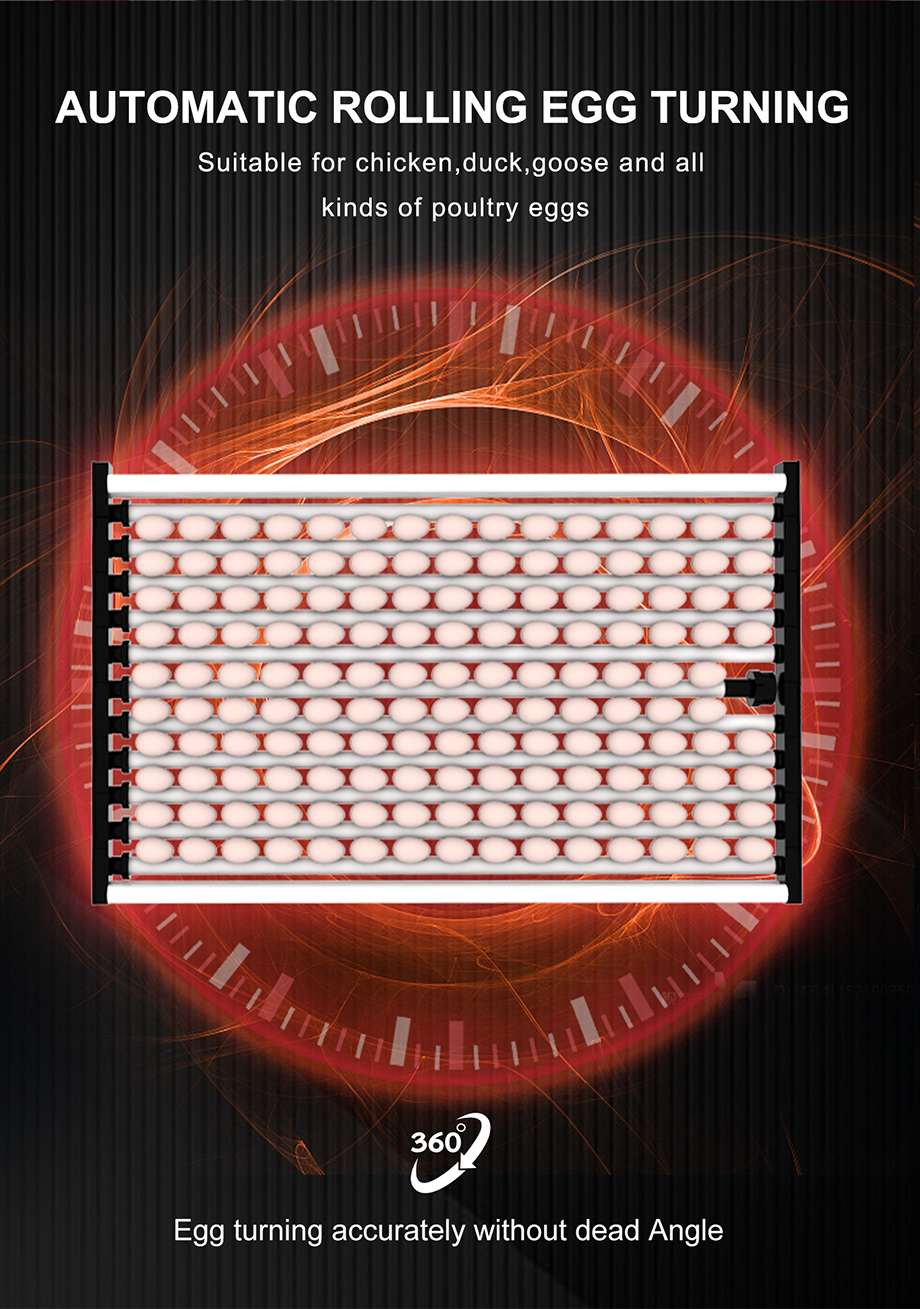 It features automatic egg turning without dead angle,with popular roller egg tray suitable for various kind of egg type like chick,duck,bird whatever fits.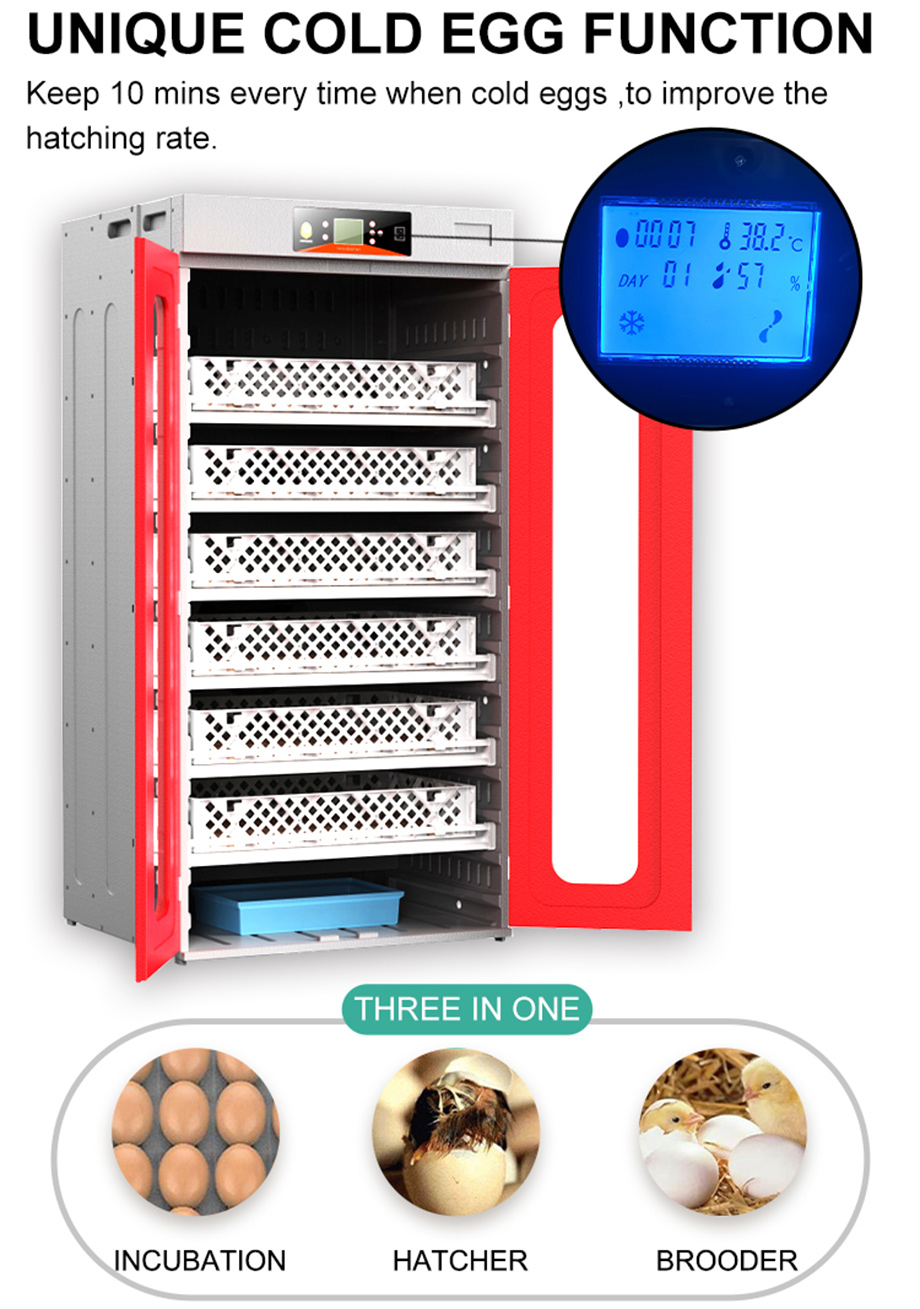 Unique one button egg cooling function,to enhance hatching rate.We definitely care what you want.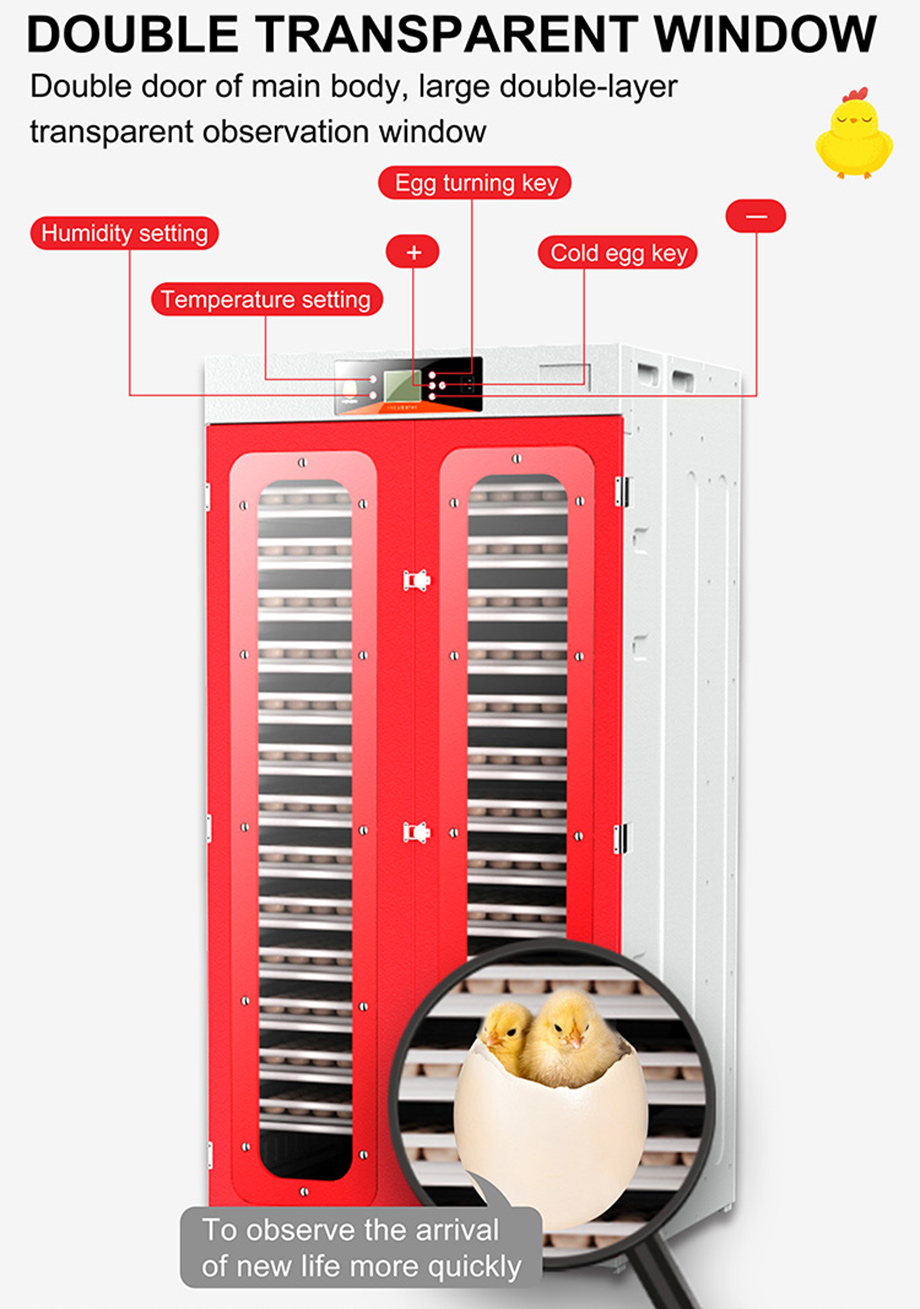 Double layers two transparent windows,support to observe hatching process easily,and maintain inside temperature and humidity more stable.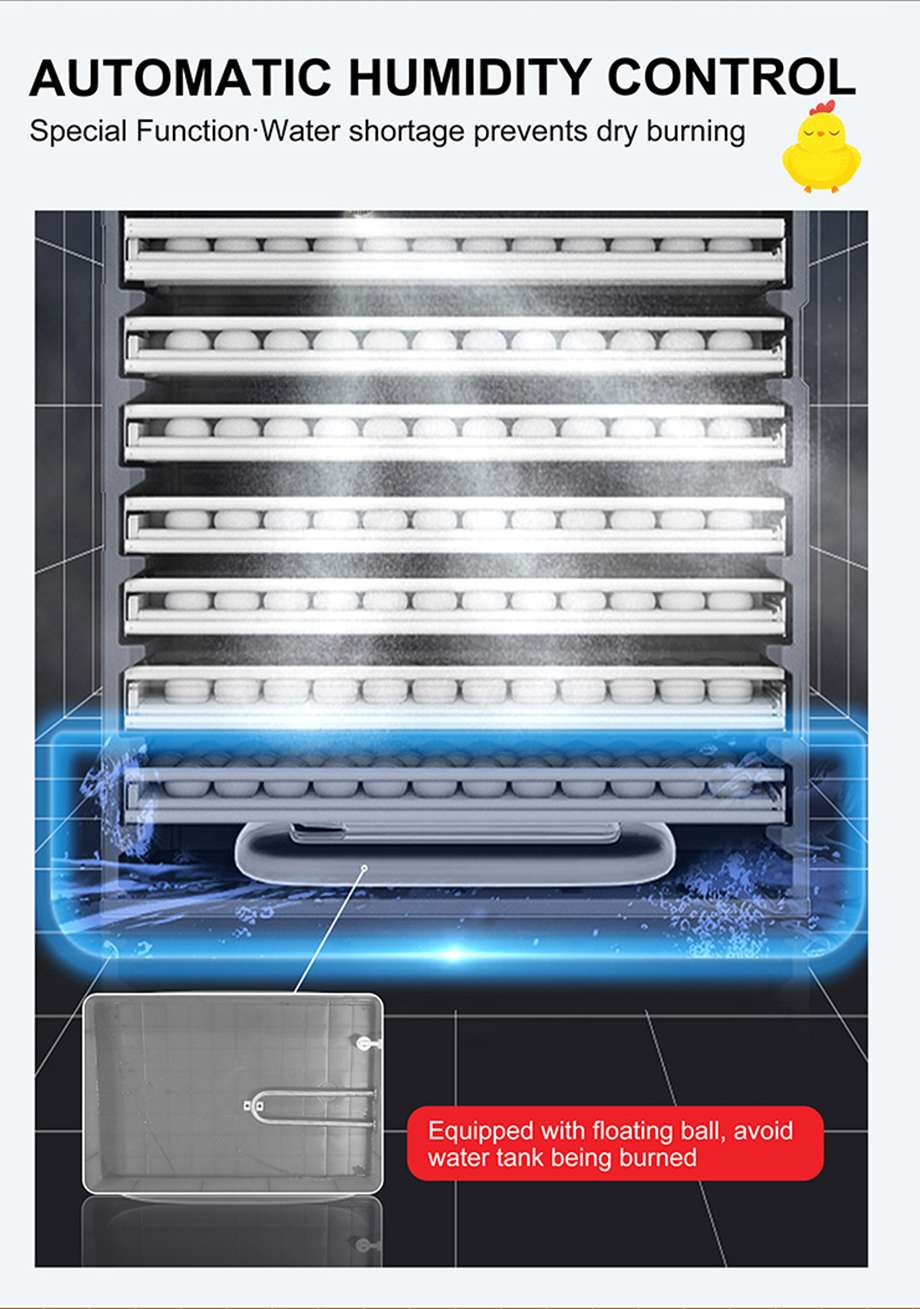 Automatic humidity control system with floating ball equipped,never worried about being burning.Just enjoy stress free and wonderful hatching process.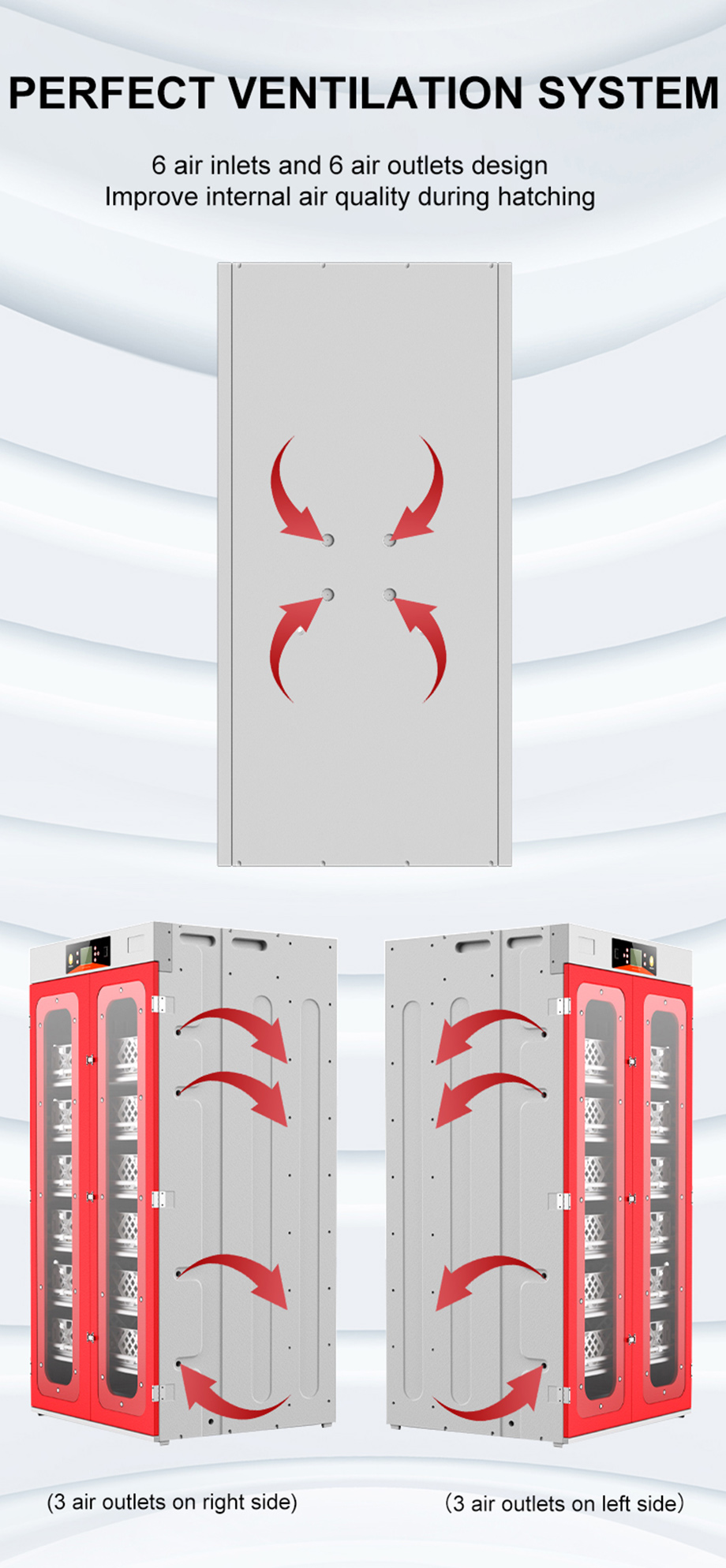 Innovative and perfect air circulation system.6 air inlets and 6 air outlets design to ensure balanced air circulation inside.
How to choose fertilized eggs?
Choose fresh fertilized eggs laying within 4-7 days generally, medium or small sized eggs for hatching will be better
Keeping fertilized eggs at 10-15℃ is recommended.
Washing or putting it into fridge will damage the powdery substance protection on cover, which is strictly prohibited.
Ensure fertilized eggs surface are clean without deformity, cracks or any spots.
Incorrect disinfection mode will reduce hatching rate. Please ensure eggs are clean and without spots if without good disinfection condition.
Tips
1. Remind customer to check package before sign it.
2. Before incubating eggs, always check that the incubator is in operational condition and it's functions are working correctly,like heater/fan/motor.
Setter period (1-18 days)
1.The proper method of placing egg for hatching, arrange them with the wider end upwards and the narrower end downwards. As shown in the figure below.


2.Do not test eggs in first 4 days to avoid affecting internal development.
3.Check if blood inside eggs on 5th days and pick unqualified eggs out.
4.Keep continuous attention on temperature/humidity/egg turning during hatching.
5.Please wet sponge twice per day (it can be adjusted accordingly according to local environment).
6.Avoid direct sunlight during hatching process.
7.Do not open the cover frequently when the incubator is working.
Hatcher period (19-21 days)
Reduce temperature and increase humidity.
When a chick get stuck in the shell, spray the shell with warm water and help by gently pulling off the egg shell.
Help baby animal to come out with clean hand gently if necessary.
Any chick eggs not hatched after 21 days, please wait for extra 2-3 days.
---
---
Write your message here and send it to us