Automatic humidity control 50 Eggs Incubator for hatching chicken,goose,quail eggs
Product Detail
Product Tags
【New material used】New ABS and PC material combined,durable&
environment friendly
【Double layers cover】Two layers cover with lock design ensure stable
temperature&humidity
【Auto temperature&humidity control】Accurate automatic temperature and humidity control
【External water adding】External water adding with utmost convenience
【Universal egg tray】Universal egg tray with movable dividers,adapt to various egg shape
【Auto egg turning】Auto egg turning,simulating original mother hen's incubation mode
【Detachable design】Detachable body design makes cleaning easily
It is able to help kids,farmer,shool etc to hatch different kinds of eggs like chick,duck,goose,quail etc.Start hatching journey with incubator queen now.

| | |
| --- | --- |
| Brand | HHD |
| Origin | China |
| Model | Automatic 50 egg incubator |
| Color | Black,Brown,Transparent |
| Material | New PC&ABS |
| Voltage | 220V/110V |
| Power | 140W |
| N.W. | 6.2KGS |
| G.W. | 7.7KGS |
| Product Size | 63*52*15.3(CM) |
| Packing Size | 70 * 58 * 22(CM) |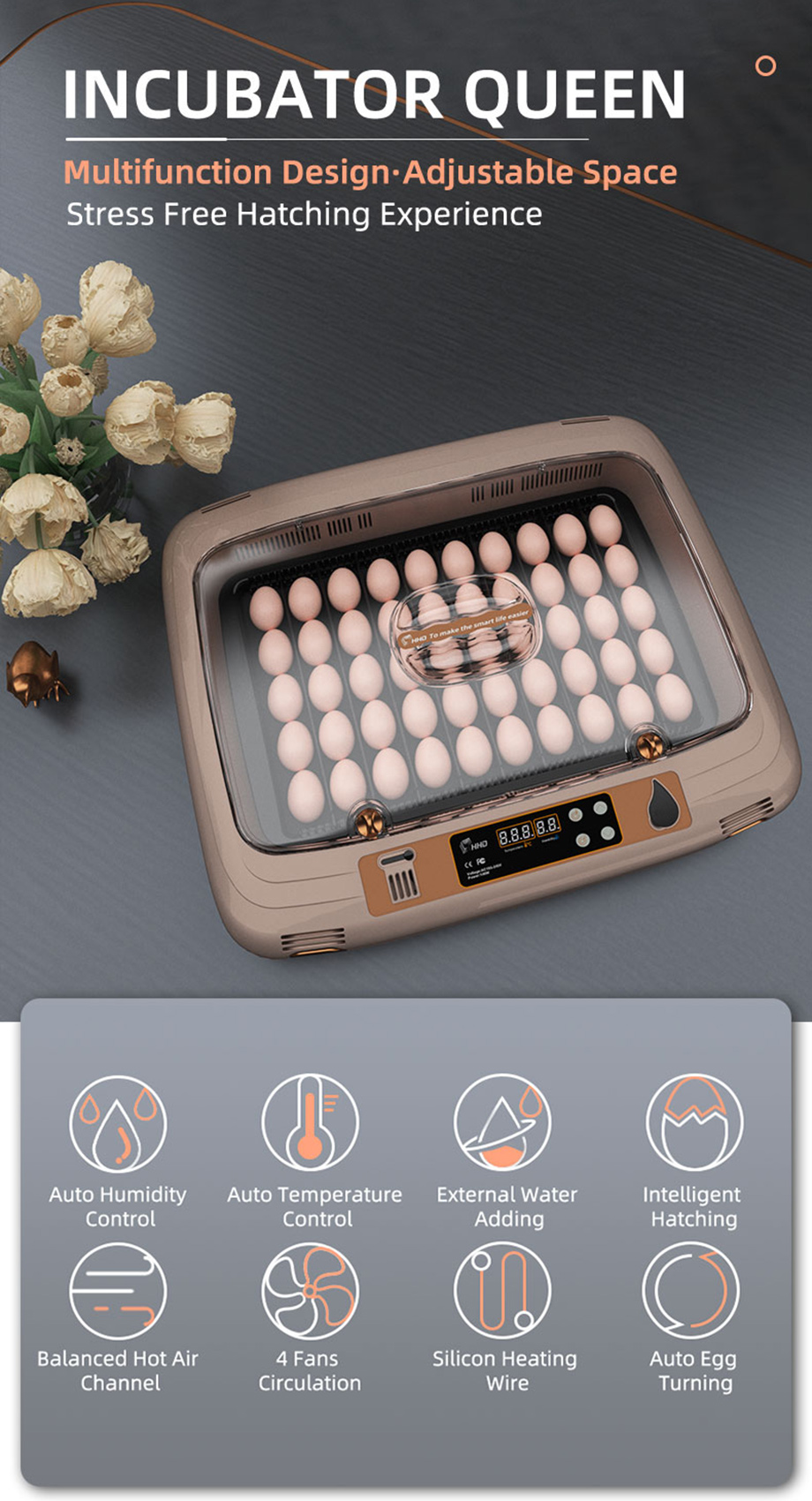 High end 50 incubator queen includes all the hatching functions as you want.Let us start stress free hatching with incubator queen now.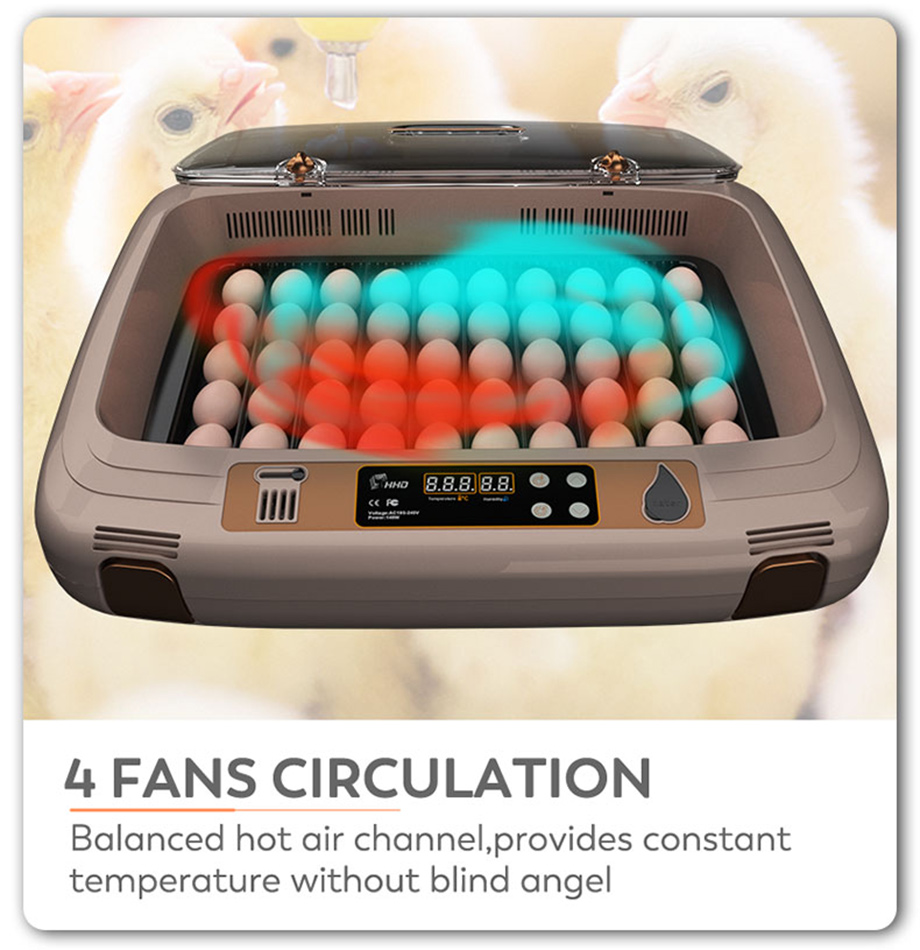 It equipped with 4pcs fan side to distribute the temperature and humidity evenly into every corner,ensure high hatching rate.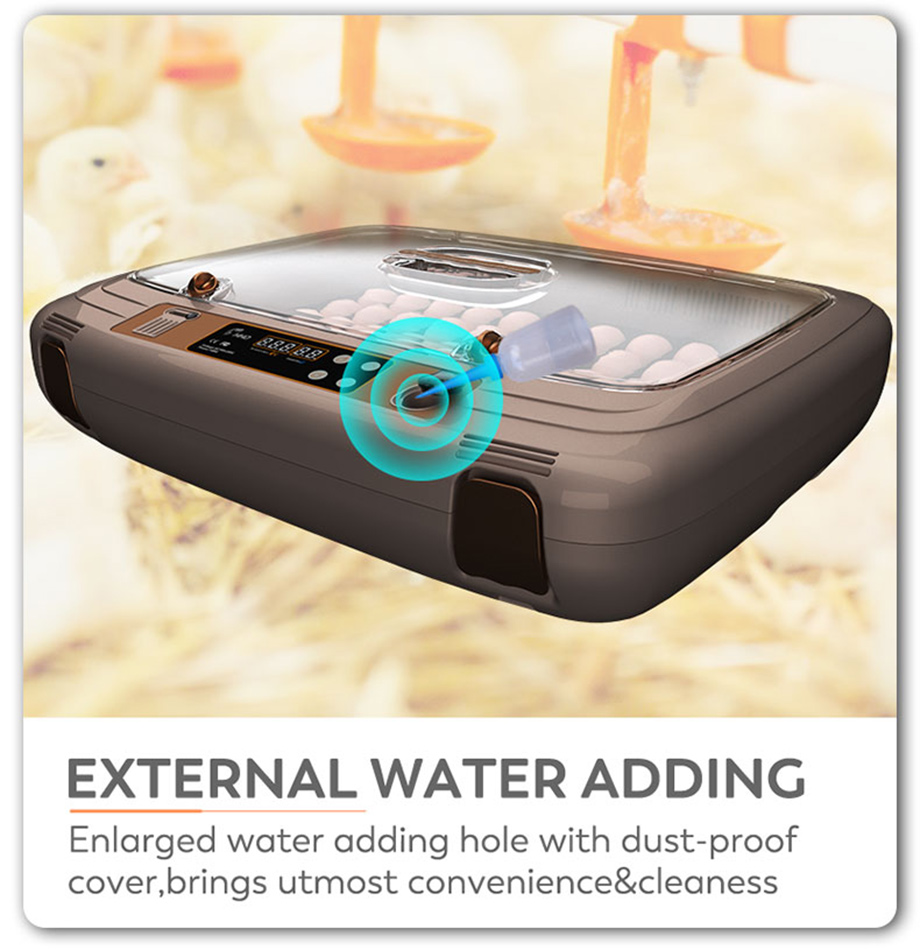 External water injection hole design, convenient for water injection, no need to open the top cover to affecting the hatching.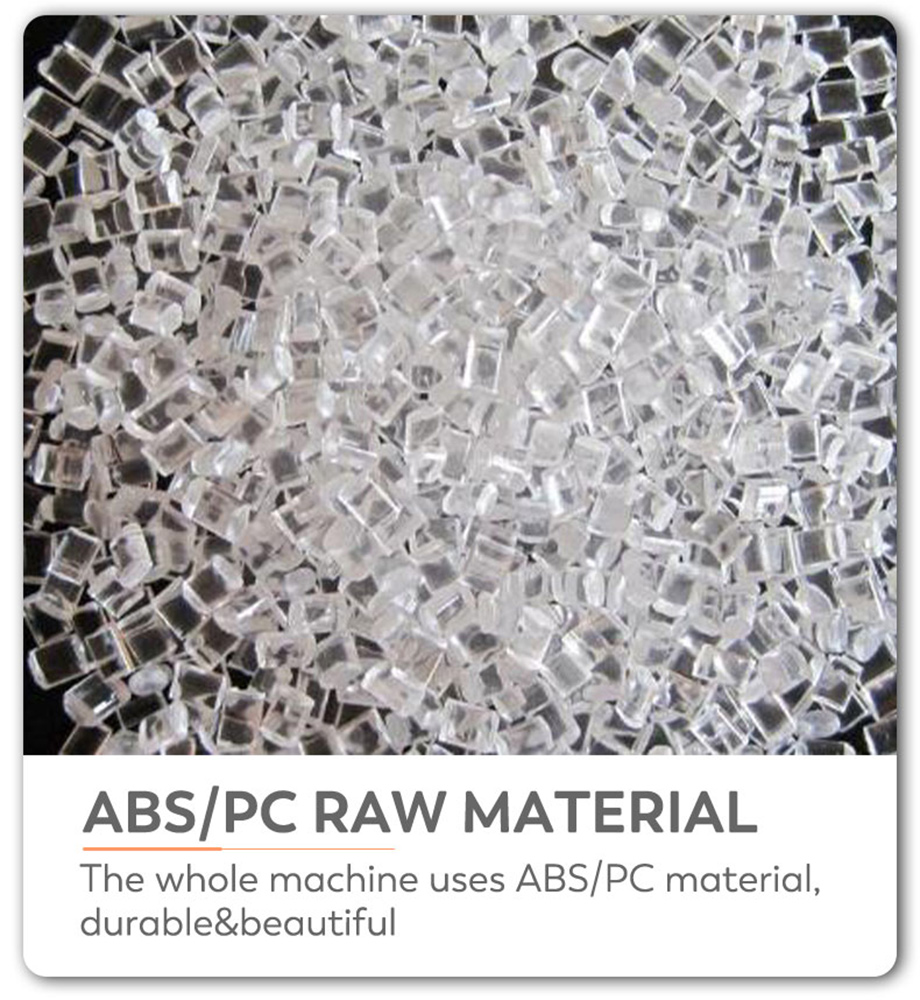 Made of ABS and PC materials,environmentally friendly and durable enough.Especially the double-layer PC top cover is not easy to deform, and able to maintain the inside steady temperature and humidity.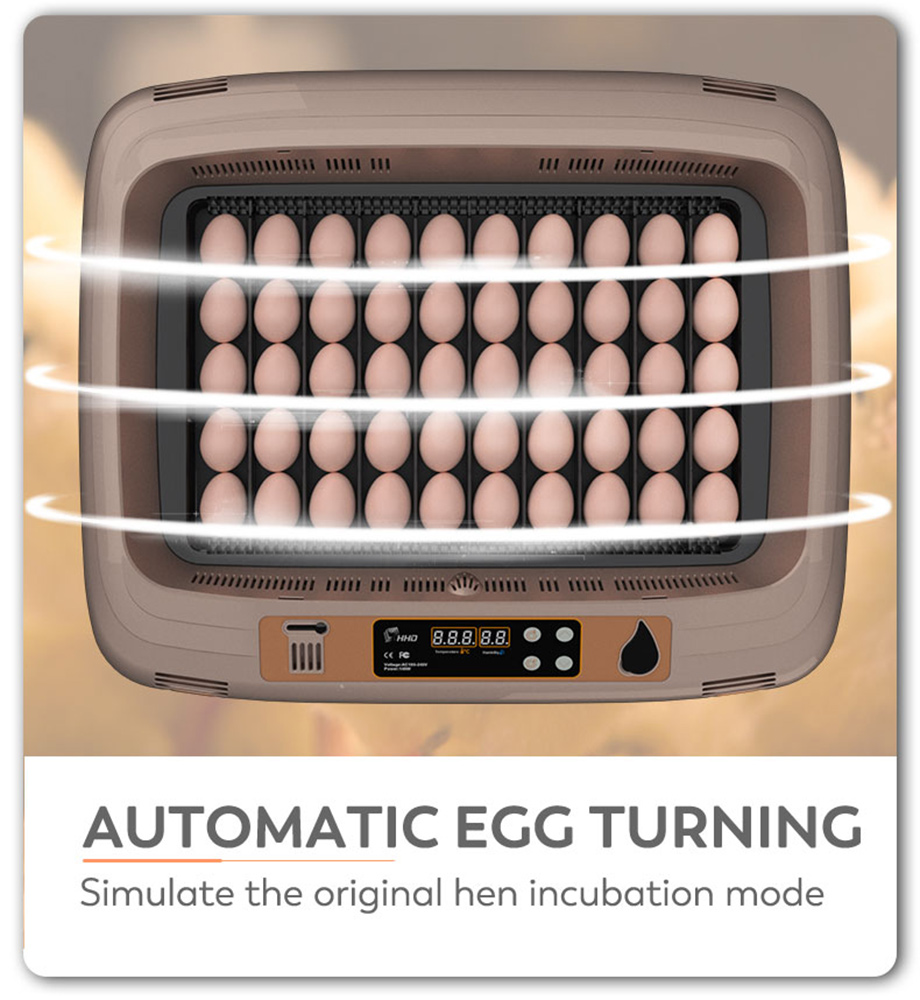 Automatic egg turning function, gently and slowly turning eggs,free your hand to enhance hatching rate greatly.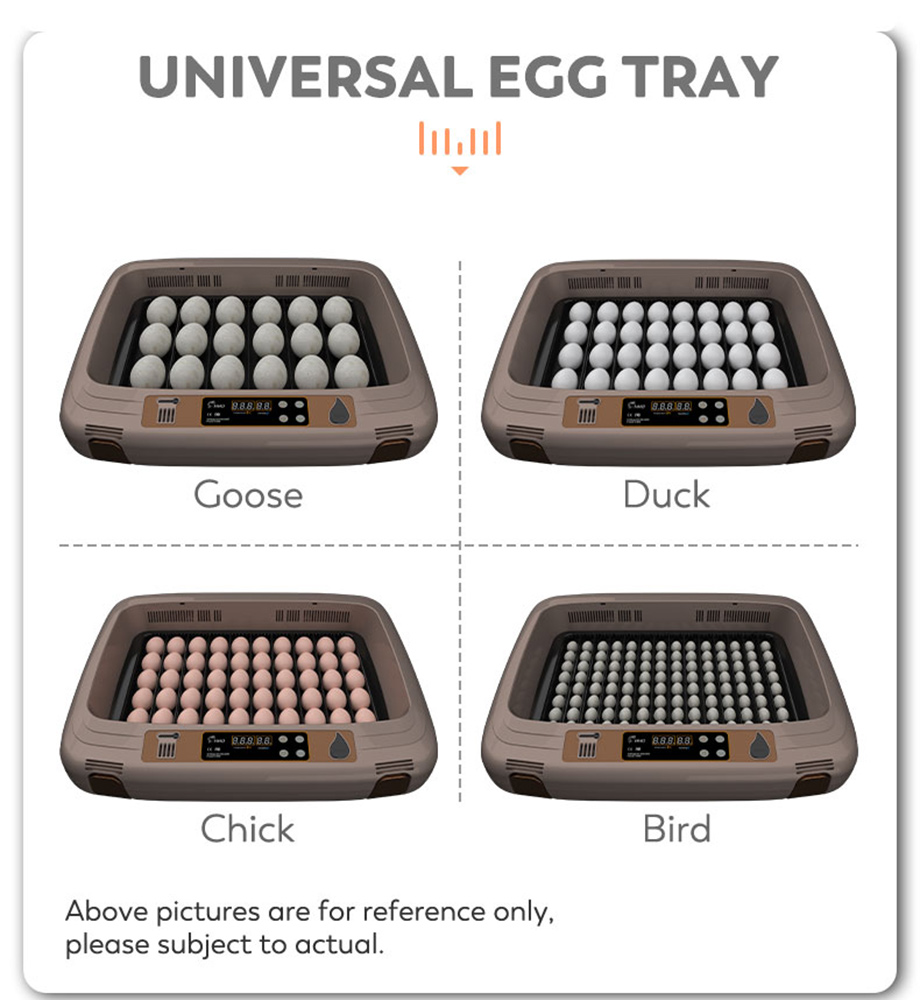 Multifunctional egg tray supported to be adjusted according to eggs size.And please note to reserve 2MM distance between egg divider and fertilized eggs to protect the egg surface and achieve high hatching rate.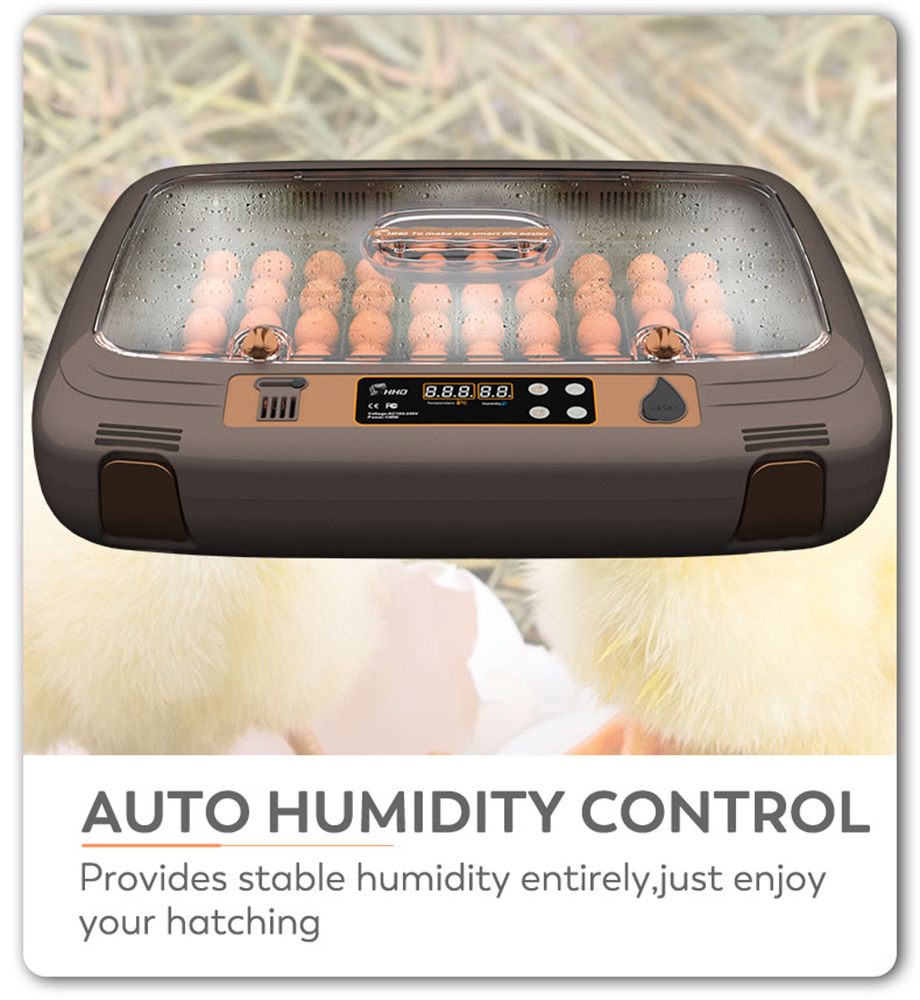 Automatic humidity control with improved system. SUS304 water level probe for reminder once no enough water.
1. Power outages during hatching.
Raise the ambient temperature outside the incubator, and cover the incubator with a quilt or other thermal equipment to keep the temperature inside the incubator stable.
2.Machine stopped working during incubation.
If there is a spare incubator, the eggs need to be transferred in time. If not, put a heating device or an incandescent lamp can be placed inside the incubator to generate heat.
3.Fertilized eggs die a lot on the 1st to 6th day
Check whether the temperature of the incubator is too high or too low, check whether the fan is working, it is likely to be caused by poor ventilation, whether the eggs are turned on time during the incubation process, and whether the fertilized eggs are fresh.
4.Chicks difficult breaking the shell
If it is difficult for the embryo to emerge from the shell, it should be artificially assisted. During the midwifery, the egg shell should be gently peeled off, mainly to protect the blood vessels. If it is too dry, it can be moistened with warm water and then peeled off. Once the head and neck of the embryo are exposed, it is estimated that it can break free by itself. At this time, the midwifery can be stopped, and the eggshell must not be forcibly peeled off.
---
Previous:
Chicken Egg Incubators for Hatching Eggs 24 Eggs Digital Poultry Hatcher Machine with Automatic Turner, LED Candler, Turning & Temperature Control for Chicken Duck Bird Quail Eggs
---
Write your message here and send it to us